Hello again, friends, and let me be the first to officially welcome you to
INFINITY WAR
WEEK!! Before we begin, I just want to let you know of some of the festivities this week! As has been the case for the past couple of weeks, you can tune in to ABC's
Good Morning America
to catch exclusive interviews with the cast and even some sneak peeks. You can also tune in to
Jimmy Kimmel Live
all week to see actors including Robert Downey Jr, Chadwick Boseman, Tom Holland, Winston Duke, Josh Brolin, Scarlett Johansson, and many more. And finally, this evening at 8pm, the Marvel Entertainment handle on Twitter (@Marvel) is live streaming the red carpet celebration of the movie! The excitement is so real! However, before we get to
Infinity War
, we have two more movies to cover, two of the newest movies, two of my top 5 movies,
Spiderman: Homecoming
and
Black Panther!
marvel.com
Once again, here's the schedule for this week's posts as it'll be a busy one:
April 26th- Infinity War Preview, Predictions, and MCU Review
April 30th- Avengers: Infinity War
imdb.com
Spiderman: Homecoming is the 16th film in the MCU, falls under the Phase 3 umbrella, and was arguably the one MCU movie nobody saw coming. The film picks up during the events of Civil War, where we first saw our friendly neighborhood Spiderman jump into action in the MCU. From there, we are taken on this incredible adventure that pits a young Spidey against his own self doubt and the villainous Vulture. Tom Holland returned to play a younger version of the character we all love so very dearly, and joining him would be Robert Downey Jr, Jon Favreau, and making her triumphant return, Gwyneth Paltrow. Joining the cast would be the likes of Donald Glover (Aaron Davis/Prowler), Zendaya (Michelle), Marisa Tomei (Aunt May), Jacob Batalon (Ned), Laura Harrier (Liz), and Michael Keaton (Adrian Toomes/Vulture). While many people were excited to see Spidey in Civil War, I'd say everyone was excited for a Spiderman stand alone MCU movie as the film brought in over $800 million during it's box office run!
amazon.com
The development for this movie is in one word: confusing. So, we all know about the original Spiderman films directed by Sam Raimi and staring Tobey Maquire. In that deal, Sony had all of the rights to basically every Spiderman character and villain. They took some time off, and rebooted with Andrew Garfield and The Amazing Spiderman 1 and 2. However, those movies weren't received very well and the series ended up not continuing. It wasn't until 2015 that it was leaked that Marvel and Sony were trying to complete a deal that would send the hero back to his home in the MCU. Then, Spidey made his dramatic debut in Civil War. The deal was announced to be strictly for Spiderman and some of his supporting characters, not including Mary Jane or the Green Goblin or Venom...at this moment. The deal is consistently changing, and with Disney's new FOX acquisition, nobody really knows what is going to happen with Spiderman and the tons of characters included in his universe. The kicker about this whole deal, though, is that Sony still gets the rights too marketing and distribution, meaning that, yes, Spiderman is in the MCU, but Marvel doesn't necessarily make a lot of money off of his movies. Which is fine, being as they release movies that eclipse the $1 billion mark pretty regularly, or more as we'll see later on. Director Jon Watts said that they tried to steer clear of anything that was mentioned in the earlier Spiderman and Amazing Spiderman film series, excluding characters like Peter Parker, Aunt May, Flash Thompson, and obviously Spiderman. However, he also said that material from earlier films such as The Daily Bugle would appear in later Spiderman films. On the MCU docket for Phase 4 is a sequel to Homecoming; however, we don't know who will appear or what the story will be yet, we actually don't even have a title yet.
lumpenmagazine.com
With a character as well known as Spiderman, there's going to be plenty of easter eggs, so let's dive into some of my favorite ones. From the get go, you're hit with nostalgia as, instead of the typical Marvel theme song, the Spiderman theme song plays while the Marvel logo is shown at the beginning of the movie. There's also that whole scene at the beginning of the movie, of Peter filming himself during the events of Civil War, along with multiple appearances by Captain America himself. Adrain Toomes' business is built on cleaning up carnage left over from the Chitauri attack in The Avengers and that's how they power their weapons as well. In Peter's chemistry class, you can see pictures of famous scientists, and the last picture is none other than Mark Ruffalo's Bruce Banner; I, for one, can't wait to see that meet up in Infinity War. And how about that bank robbery scene with the robbers wearing Avengers masks? That's probably one of my favorite Tom Holland/Spiderman scenes of all time. Another nice scene is when Happy is packing up the Avengers Tower to move to upstate, he lists off all the new stuff including Thor's magic belt and Cap's new shield. Now, this probably isn't the same shield seen in Infinity War, but it's still a cool reference nonetheless.
Iron Spider suit from Infinity War courtesy of cinemablend.com
There's two post credits scenes in Homecoming. The first brings us back to Adrian Toomes as another inmate in the jail says he wants to kill Spiderman and that Toomes knows who Spiderman is in real life. Toomes basically tells the guy if he knew who Spiderman really was, he'd be dead by now, essentially saving Peter's life. This is just another reason Vulture is a great villain because not only can we sympathize with him, but he never wants to take the easy way out, or he's actually somewhat loyal. I say that because I think there's two possible reasons Toomes didn't tell the guy Spiderman's actual identity. One is because Spiderman just saved Toomes' life and Toomes felt like he owed Peter one. The other is because Toomes wants to be the one who kills Spiderman, he doesn't want to hear that Spiderman died while he was in jail, and he'll do everything he can to make sure he gets another shot at Spidey. The other post credit scene is Captain America just trolling the audience for waiting for the end of the credits for nothing important.

nerdist.com
All in all, I love
Homecoming
so much. It ranks as my number 3 movie in the MCU for a couple of reasons but mainly because I love love love Spiderman. The film is also, what I think, the perfect introduction story. If anyone is watching a
Spiderman
movie and doesn't know that Peter's uncle Ben is tragically killed after him and Peter get into a yelling argument, then they probably don't need to be watching a
Spiderman
movie in the first place. I love how this movie completely skipped that part, and transitioned into life after uncle Ben. I also love the casting of Tom Holland so much, like it screams Peter Parker to me and even how Holland acts outside of the movie is just so Peter Parker it's great. But one of the best parts of the movie is the introduction of Ned. I love the "guy in the chair" idea that he is to Spidey and I love how great of character he turns out to be. This is one of the newest entries to the MCU, but it's also easily one of the best in my opinion.
bgr.com
Now, let's move on to the newest entry to the MCU:
Black Panther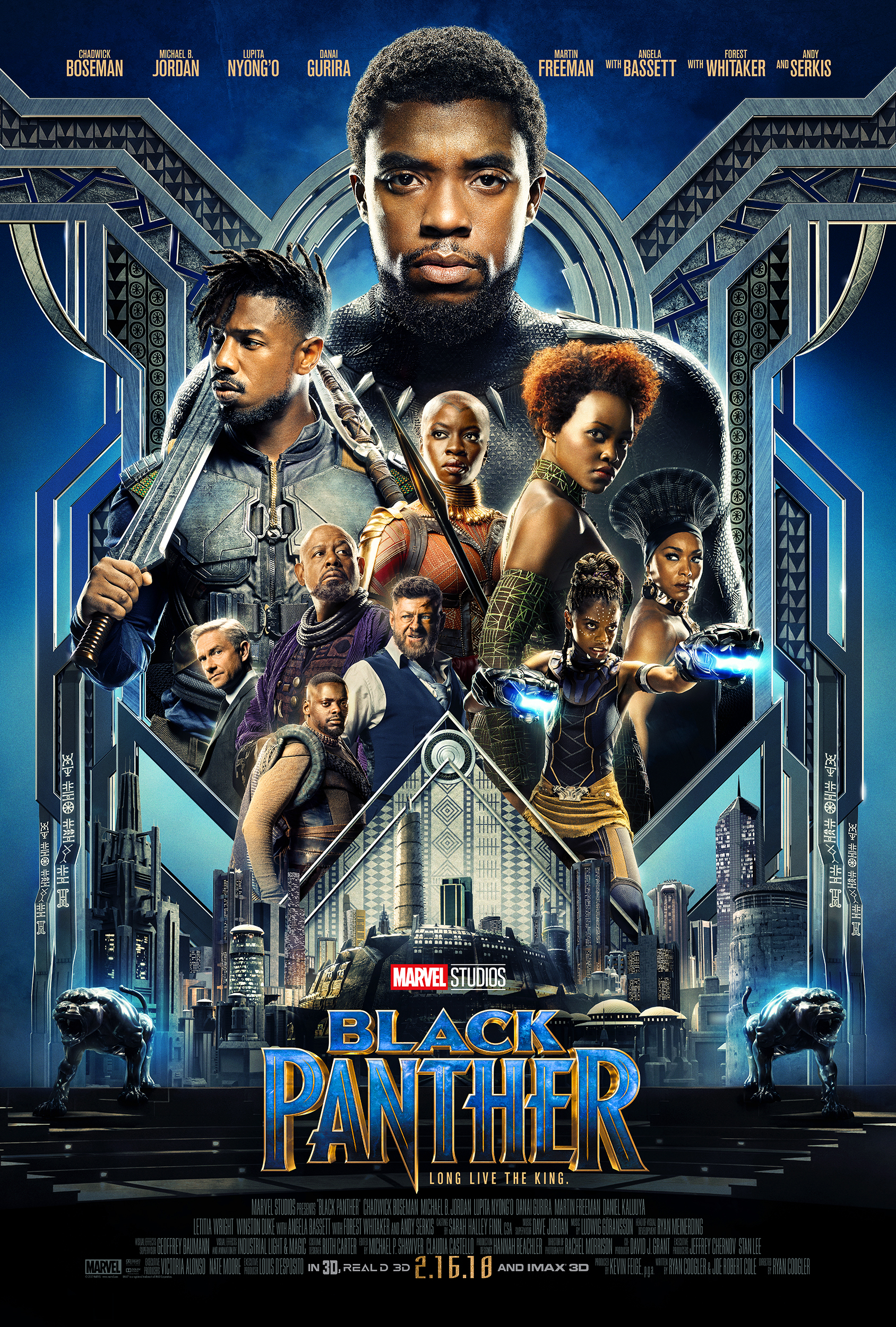 marvelcinematicuniverse.wikia.com
Black Panther
is a cultural phenomenon, the biggest superhero movie ever, and the 18th movie in the MCU, falling under the Phase 3 umbrella. The film tells the story of T'Challa, King of Wakanda and the Black Panther, and the responsibility that comes with being King and life after his father's tragic death. T'Challa must prove he's worthy of the title of King, and with the help of his friends and family, must save Wakanda from destruction. Directed by Ryan Coogler,
Black Panther
is literally a cultural phenomenon and has been ruling the box office for nearly 4 months, raking in the biggest box office of any superhero movie of all time at a current total of $1.3 billion. Clearly people were excited for
Black Panther
after T'Challa made his debut in
Civil War.
The movie is action packed, and very dramatic as it shows the pressure that comes with being King.
imdb.com
A Black Panther movie has been one that has been talked for over 20 years. In 1992, Wesley Snipes had the idea of making and starring in a Black Panther to portray the beauty of Africa and the African culture, gaining enough ground that Stan Lee had joined him in the quest. Snipes and Lee entered talks with Columbia Pictures in 1993; however, by 1997 production had halted on the movie. In 2000, Artisan Entertainment announced they would be financing and producing a film based on the Black Panther, to which Snipes, who had already been Blade in two
Blade
films, jumped at the opportunity to play the character. However, with Snipes already having a role with Marvel, many felt like it would be overkill to have him cast again. Through the years, production on the Black Panther movie went from Artisan Entertainment to Paramount Studios back to Marvel, when in 2010, Marvel CEO Kevin Feige said that there was a Black Panther movie on the slate for the current MCU. With nods to Wakanda and Black Panther in movies as early as
Iron Man 2,
you could say Feige was itching to formally introduce Black Panther to the MCU. Well, that introduction came in the 2016
Civil War
and Feige announced the film
Black Panther
would release in early 2018. Feige was then tasked to find a director and it came down to two candidates: Ryan Coogler and Ava DuVernay. DuVernay chose to direct
A Wrinkle in Time
and so Feige offered the job to Coogler, who accepted. With Chadwick Boseman reprising his role as T'Challa from
Civil War,
Coogler didn't have much casting to come up. Coming with Coogler was Michael B Jordan in an undisclosed role, that would later be revealed to be the villain Killmonger, and Lupita N'yongo, who would T'Challa's love interest, Nakia. Also joining the cast would be Letitia Wright (Shuri), Angela Bassett (Ramonda), Forest Whitaker (Zuri), Andy Serkis agreed to reprise his role as Ulysses Klaue, Martin Freeman agreed to reprise his role as Agent Ross, Danai Gurira (Okoye), Sterling K Brown (N'Jobu), and Winston Duke (M'Baku). Of all the cast, M'Baku was my show stealer. I thought he was amazing and loved his comedic relief and character arc as well.
marvelcinematicuniverse.wikia.com
Now, let's talk easter eggs! When Ross is brought to Shuri, she tells T'Challa "great, another white boy to fix." She's talking about when T'Challa brought her Bucky Barnes after
Civil War.
There's also Klaue's new hand that he wouldn't have to worry about had it not been for Ultron in
Age of Ultron.
That covers the MCU easter eggs and I'd like to think the reason there are so little nods to other movies is because
Black Panther
is somewhat of a standalone movie, meaning that it really doesn't go with a lot going on in the MCU outside of location and characters. Essentially, the storyline isn't pivotal to anything else in the MCU, at the moment at least...
nytimes.com
There's two post credits scene in
Black Panther.
The first is really a followup to the whole story of introducing Wakanda to the world, as T'Challa, Okoye, Nakia, and Shuri are all at a UN meeting with T'Challa announcing he will open Wakanda to all the world (this is where Okoye's line in one of the new tv spots for
Infinity War
.) The other post credit scene is what is really important here. In
Civil War,
Captain America takes Bucky to Wakanda to see if T'Challa and the Wakandans can fix what's wrong with hid brain. Well, it looks like it worked. Shuri is seen overlooking a lake, and exiting a hut by the lake is none other than Sergeant Bucky Barnes himself, or as the kids are calling him, the White Wolf. According to the Russo brothers, in
Infinity War,
Bucky will be known as the White Wolf, not the Winter Soldier, which is pretty impactful because in the comics, the White Wolf is an agent of Wakanda that protects the city when T'Challa isn't there.
comicbookmovie.com
I do love
Black Panther
as well, as it comes in at number 5 on my MCU list. I think it has good humor and action, but is probably one of the strongest storylines in the MCU. The origin of the Black Panther is a great story, but what I love most about the movie is the dramatic elements throughout the film, but especially when Killmonger is on the screen. Had it not been for Loki and his amazing character arc and acting by Hiddleston, Killmonger would easily be the greatest villain in the MCU. He makes you feel for him, to the point that when he dies, I actually shed a couple of tears. It's the story of a boy who's father was killed when he was a child, then he had to fend for himself, and when he finally realizes who he really is, he wants to capitalize and finally live a decent life. I love that so much about him, and Michael B Jordan was phenomenal in the role.
imdb.com
Kevin Scott is a contributing writer for The Mouse Knows Best Podcast. He is self proclaimed Disney addict and oftentimes annoys his family with how much he talks Disney. He enjoys walking around all Disney Parks and taking as many pictures as he can in one day. When he isn't at Walt Disney World, he is working to get back or re-watching Disney, Marvel, and Star Wars movie. His spirit animal is a mix between Simba and Kylo Ren with a dash of Tony Stark. You can find him on Twitter @doubleoh_kevin and on Instagram @waltdisneyduo.