Over the course of the past few months, myself and you, the readers, have embarked on a journey through 18 movies in preparation for the "be all, end all":
Avengers: Infinity War.
Before you continue reading, I must warn that this post does include spoilers. The narrative for these posts have been a certain way; however, I'm changing it up and strictly giving my review of the film. As this is the last "Marvel Mondays" post, I do want to thank you all for joining me on this journey, as it has been a blast to write these posts covering something that is very dear to my heart. Without further adieu, I present my official review of
Avengers: Infinity War.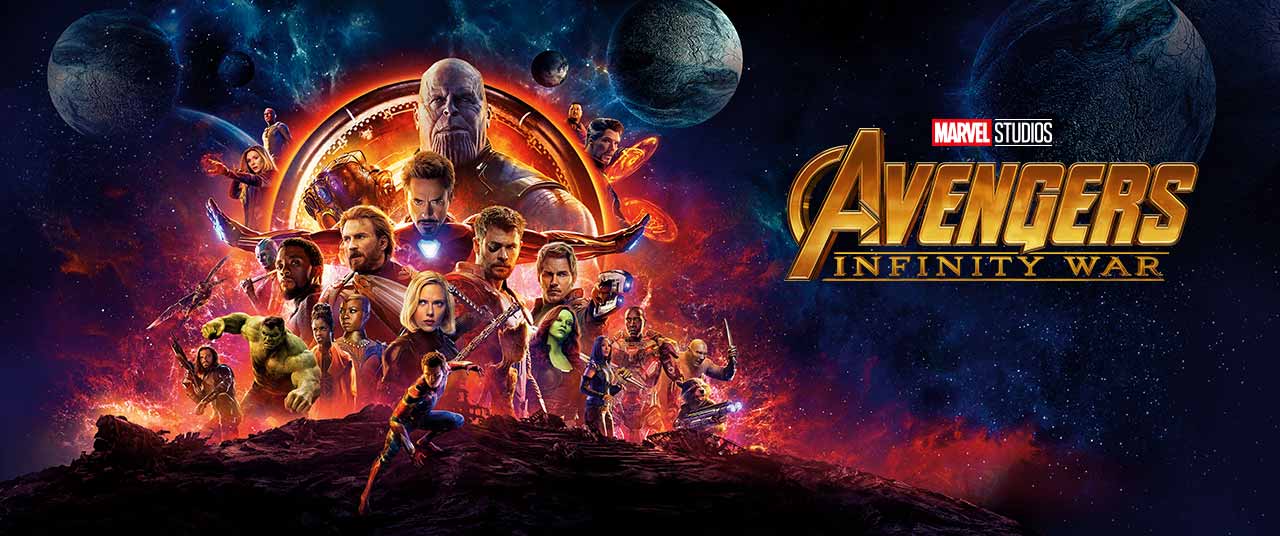 Wow is all I can really say. For the past 10 years, Marvel has been making these movies that would culminate in a historic event. Now, am I saying that when I first watched
Iron Man
as a 12 year old that I expected to see an
Infinity War
like movie? No way, and I don't think anyone can say they did expect to see something like this, aside from maybe Kevin Feige and Stan Lee. Essentially, what has happened is Joe and Anthony Russo have taken the best of all of the movies in the MCU and combined it into one, then took a HUGE risk. But with a movie like this, don't you have to take a risks? Aren't they necessaary to keep the audience wanting more, and expecting the unexpected. Which, if we're being honest, Marvel has failed to do in the past. There's a super hero, then there's a villain, the villain gets something super powerful and it seems all hope is lost, then the hero musters up all strength, comes close to death, and defeats the villain. That storyline can cover the majority of the plots in the MCU, besides
Infinity War.
The Russo brothers changed the game, they threw out the old narrative, and welcomed a new narrative...a darker narrative. What happens if the hero doesn't save the day? What happens if they fail? What happens if they die? These are questions Marvel Studios didn't have to answer...until today.
Avengers: Infinity War
is a movie that is 10 years in the making, the hype feels like that, and yet, once again, Marvel exceeded the expectations.
One of my worries coming into the movie was, with it being a team up of all films in the MCU, how will each character, particularly my favorites, get an adequate amount of screen time. Upon seeing the film twice (because after seeing it once your mind is just blown away), I can say that, while each character doesn't get an equal amount of talking time, they do make up for it with their action time, with the exception of Thor, Thanos, Vision, Iron Man, and Scarlet Witch. I would venture to say that those 5 have the most screen time, action time, and talking time. For anyone who didn't believe the Russo's when they said this was a Thanos movie, it is. Thanos is, far and away, the main character. However, he isn't built up to have the audience show him sympathy, similar to Vulture and Killmonger. No, Thanos is built up to strike fear in every single audience member viewing the movie. There's a point in the movie where we see a flashback of Thanos and Gamora, and from there, the Russo's build up Thanos' undying love for the little girl who hates him so much. It culminates when the Red Skull, the guardian of the Soul Stone, tells Thanos he must sacrifice what he loves most in order to receive the Soul Stone. Gamora thinks she has won, as she believes Thanos loves nothing, until she realizes the only thing Thanos loves is...her. It's a hard scene to watch, and one that will undoubtedly require some Kleenex. From there, we see a far more ruthless side of the Mad Titan. Somewhat arrogant, but able to easily back it up, culminating with his inevitable visit to Wakanda to retrieve the Mind Stone. Another scene that will need the Kleenex, as he wipes through everyone guarding Vision and ultimately completes the Gauntlet, taking the life of the android in the process. But even then, the Russo's made us believe there was hope as Thor stabbed Thanos through the chest with Stormbreaker. And in the snap of a finger, all hope was gone. The die hard fans knew what was coming. The casual movie fans didn't. You could tell the difference in both screenings I went to as audience members audibly started yelling, crying, sobbing, as dozens of characters disappeared, both on Wakanda and Titan. And the risk the Russo's took? They specifically chose which characters had to go, and which had to stay; something that made it even harder for audiences to watch as characters freaked out as they disappeared into ash.
The one downfall of the movie is that it feels way too much like a "part 1" for it to supposedly not be. When Disney originally announced the film, they said the second movie (set to release May 3rd, 2019) would be titled
Avengers: Infinity War Part 2;
however, the title has since been dropped, with a new title not released yet because it will spoil
Infinity War.
That being said, this movie still feels like there is more to come, because the next
Avengers
movie is bringing more. This criticism doesn't mean I enjoyed the movie any less, because it is still easily number one on my list, but it does mean that
Avengers 4
will most likely jump
Infinity War
to hold that number one spot. My only other gripe with the film, and really it doesn't even have to do with the film, is that the characters who disappeared have sequels coming that have already been announced. If Marvel and Disney wanted to really yank the audience's heartstrings, they wouldn't have announced things like a
Spiderman Homecoming 2
or a
Black Panther 2.
Nonetheless, it still makes those "deaths" hard to watch, but imagine watching it not knowing if they were really dead or not? Now that would be rough to watch.
The biggest question coming out of the movie, to me, was who is actually dead? The Russo's told us that the stakes would be higher here, that the deaths would be permanent, but like I've already said, we can rest assured that Spiderman, Black Panther, Star Lord, Mantis, Drax, and Groot will return as they have sequels on the table already. That being said, the only answer I have for my question is it comes down to pre snap and post snap. I firmly believe that the deaths that happened before Thanos snapped his fingers are permanent, meaning it's the end for Loki, Gamora, and Vision. The most likely of the three to return (because Marvel is known for this) would probably be Gamora because she's such a pivotal part of the Guardians. How could Gamora come back? I have no idea, but one would have to believe that Nebula and Star Lord would play big roles in bringing her back. As far as Vision goes, I could see a comeback happening, but not as Vision. Earlier in the movie, Shuri says she can realign his neurons and tissues to bring him to life without the Mind Stone. Meaning, I would bank on it that Shuri will be bringing Vision back, but maybe he stays in his colorless form instead of having color. That brings me to Loki. There's no way he comes back, which is sad to me, but it had to be done. He literally gets the life choked out of him by Thanos. If Marvel brings him back, I'd be pretty upset.
Finally, what about the characters who disappeared? Well, according to the comics, when Thanos snaps, his victims go to another dimension called the Soul Realm. That's where I think the post snap people are at now, and really the only way to get them out is to defeat Thanos, acquire the Soul Stone, then make a sacrifice similar to what Thanos did with Gamora. This is where I think the OG Avengers come in. Dr Strange says the only way to defeat Thanos is to keep Tony Stark alive, meaning Tony probably figures out how to do it and ultimately wields the Gauntlet, then destroys the Stones (I mean, we've seen him create an element, he can do it). So with the help of the other Avengers, M'Baku, Okoye, Captain Marvel, and probably Ant Man, the new group will be able to defeat Thanos and seemingly win the day, with casualties of course. However, I also think Tony is the only one that has the guts to sacrifice someone he loves to get the Soul Stone, and this is how I think Steve Rogers will die. Tony will sacrifice Cap, and bring back everyone from the Soul Realm. That's my big prediction for
Avengers 4.
Of course, we have to wait around a year for it, but I'd be shocked if there were no implications or mentions of
Infinity War
during
Ant Man and the Wasp
and
Captain Marvel.
Avengers: Infinity War
is an action packed, dramatic filled, tear jerker of a movie. And I could not love it any more. I think that this is a great film for the family, even those who don't necessarily like Marvel movies, because it literally has something for everyone. There's romance, comedy, sacrifice, drama, and tons of action. The stakes could not be higher in this movie, and as you'll see, nobody is safe. If you have any doubts regarding whether you'll like or not, don't worry because you will. I genuinely think it's impossible to not like this movie. From all angles, it checks every single box. There has only been one movie that I have given a 100/100 before (The Lion King), but
Infinity War
joins that prestigious list. It gets the 100 because it has all of the key elements of a movie in it, and executes everything it sets out to execute perfectly. I will say that my review looks at this as a part 1 of 2, so I'm a little different than other reviewers, but for me, it delivered in a magnificent way. Go see this movie, you won't regret it. Thanos is here.